Contact information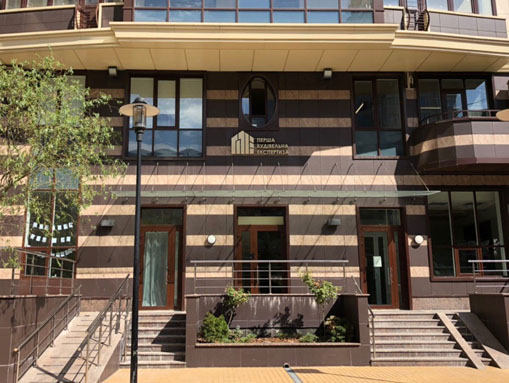 Contact our central office or our regional branches and representatives. Check the details on the phones below.
Telephones:
+38 (097) 228 99 77
+38 (050) 228 99 77
Email:
infoinfo@pbe.ua - general;
buhgalterbuhgalter@pbe.ua - accounting
---
Address of the central office:
03150, Ukraine, Kyiv, str. Vasyl Tyutyunnik 37/1, section 4, office 412
How to find us?
Our office is located in the residential complex "Prestige Hall" (5-minute walk from the "Palats Ukrainy" metro station).
You can park your car along the road right next to the residential complex, or, if all spaces are occupied - in the paid parking lot near the sales office of the Prestige Hall residential complex. Parking will be free for our customers upon prior call from our administrator (car brand and number are required for this).
How to find our office on the territory of the "Prestige Hall" residential complex: You need the central entrance (the landmark is the "Alice" restaurant). To the right of the central entrance (if you face it) you will see stairs and a metal door with an intercom that leads to the courtyard of the residential complex. Press the "FIRST CONSTRUCTION EXPERTISE" button on the intercom, in the yard on the second floor follow our "FIRST CONSTRUCTION EXPERTISE" sign, which will lead you directly to our office. If you cannot find us, feel free to phone us - our administrator will meet you!
- View the route from the previous office
- View the route from the metro station "Palats Ukrainy"
We invite all participants of the construction industry of Ukraine to cooperate!
We provide expert assessment services for construction projects throughout Ukraine:
---
VINNYTSIA BRANCH
EDRPOU code: 41830958
tel. (097) 228-99-77
e-mail: info@pbe.uapbe.ua
---
VOLYN BRANCH
EDRPOU code: 41830963
tel. (097) 228-99-77
e-mail: info@pbe.uapbe.ua
---
DNIPROPETROVSK BRANCH
EDRPOU code: 41830979
tel. (097) 228-99-77
e-mail: info@pbe.uapbe.ua
---
DONETSK BRANCH
EDRPOU code: 41830984
tel. (097) 228-99-77
e-mail: info@pbe.uapbe.ua
---
MYKOLAIV BRANCH
EDRPOU code: 41765774
tel. (097) 228-99-77
e-mail: info@pbe.uapbe.ua
---
ODESA BRANCH
EDRPOU code: 41831045
tel. (097) 228-99-77
e-mail: info@pbe.uapbe.ua
---
POLTAVA BRANCH
EDRPOU code: 41796797
tel. (097) 228-99-77
e-mail: info@pbe.uapbe.ua
---
RIVNE BRANCH
EDRPOU code: 41765905
tel. (097) 228-99-77
e-mail: info@pbe.uapbe.ua
---
ZHYTOMYR BRANCH
EDRPOU code: 41765753
tel. (097) 228-99-77
e-mail: info@pbe.uapbe.ua
---
ZAKARPATTIA BRANCH
EDRPOU code: 41830991
tel. (097) 228-99-77
e-mail: info@pbe.uapbe.ua
---
ZAPORIZHZHIA BRANCH
EDRPOU code: 41831003
tel. (097) 228-99-77
e-mail: info@pbe.uapbe.ua
---
IVANO-FRANKIVSK BRANCH
EDRPOU code: 41831019
tel. (097) 228-99-77
e-mail: info@pbe.uapbe.ua
---
SUMY BRANCH
EDRPOU code: 41765795
tel. (097) 228-99-77
e-mail: info@pbe.uapbe.ua
---
TERNOPIL BRANCH
EDRPOU code: 41831050
tel. (097) 228-99-77
e-mail: info@pbe.uapbe.ua
---
KHARKIV BRANCH
EDRPOU code: 41831066
tel. (097) 228-99-77
e-mail: info@pbe.uapbe.ua
---
KHERSON BRANCH
EDRPOU code: 41831071
tel. (097) 228-99-77
e-mail: info@pbe.uapbe.ua
---
PEREYASLAV-KHMELNYTSKY BRANCH OF KYIV REGION
EDRPOU code: 41765789
tel. (097) 228-99-77
e-mail: info@pbe.uapbe.ua
---
KROPYVNYTSKYI BRANCH
EDRPOU code: 41831024
tel. (097) 228-99-77
e-mail: info@pbe.uapbe.ua
---
LUGANSK BRANCH
EDRPOU code: 41831036
tel. (097) 228-99-77
e-mail: info@pbe.uapbe.ua
---
LVIV BRANCH
EDRPOU code: 41765769
tel. (097) 228-99-77
e-mail: info@pbe.uapbe.ua
---
KHMELNYTSKYI BRANCH
EDRPOU code: 41831087
tel. (097) 228-99-77
e-mail: info@pbe.uapbe.ua
---
CHERNIVTSI BRANCH
EDRPOU code: 41765800
tel. (097) 228-99-77
e-mail: info@pbe.uapbe.ua
---
CHERKASY BRANCH
EDRPOU code: 41796802
tel. (097) 228-99-77
e-mail: info@pbe.uapbe.ua
---
CHERNIGIV BRANCH
EDRPOU code: 41765789
tel. (097) 228-99-77
e-mail: info@pbe.uapbe.ua
---